A VERSATILY BREED
HERDING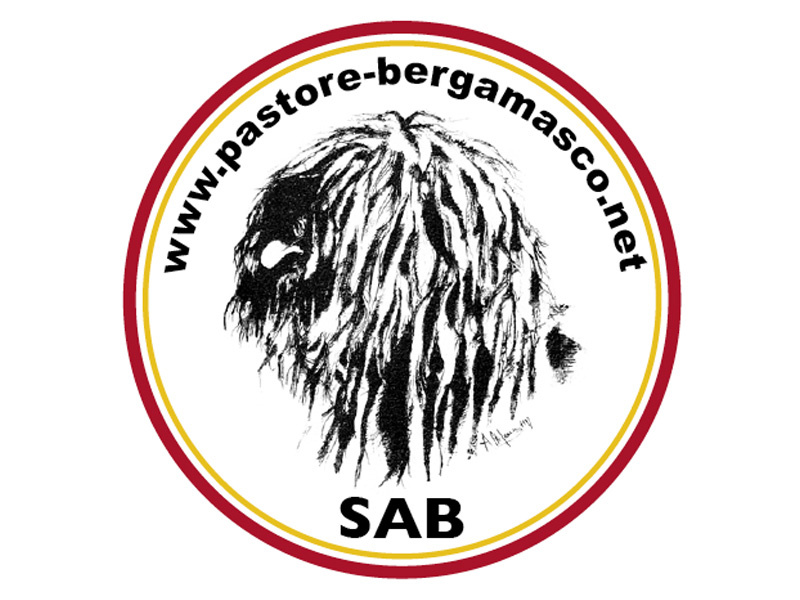 Herding with the Bergamasco
The Bergamasco was selected to drive large flocks of sheep and cattle, to recover, to gather, to keep an eye on grazing. Thanks also to the activities of the Club CLB , Cani da Lavoro sul Bestiame (www.clbdog.com), In Italy, it is now possible to practice herding dog trials, activity officially recognized with international rules, that gives the opportunity to verify the Bergamasco's capability in herding the flock in various situations and with various difficulties depending on the test, in order to maintain and preserve the aptitude of the breed and all the behavioral sequences that distinguish them with adequate answers and proper stimulation. This activity is not only appreciated by the dogs, but also by the handlers because it is an opportunity to spend moments of complete harmony with the dog and  animals in close contact with nature. It is a course that requires a good feeling with the dog and a close relationship that one gains with refined communication and obedience, a course that requires total respect for animals and the knowledge that above all it is the welfare of all involved that has the priority. In Italy, working with sheep and cattle using Bergamasco sheepdogs and other herding dogs, has in the past few years, been promoted and developed also thanks to the setting up of the CLB field of Suisio (BG).
Many subjects have successfully taken part in various tests and competition:
Cant, HWT (Herding Working Tests) Classes 1, 2 and 3
Bu of Valle Scrivia 19.11.1992 by Alpino di Valle Scrivia x Olussi di Valle Scrivia
Onda Arcobaleno known as Ciuffa 20.07.2001 by Bu di Valle Scrivia x Harma owned by Rahel Koller
Ortensia di Valle Scrivia 26.03.2002 by Carbù x Millenniummia di Valle Scrivia
Viola known as Violetta 25.09.1998 by Ute di Valle Scrivia x Aska bred and owned by Fabrizio Nava
Lalla known as Piccola 29.08.1999 by Spear x Gemma bred and owned by Fabrizio Nava
Pacci di Valle Scrivia 1.05.2003 by Carbù x Milleniummia di Valle Scrivia
Zola 25.04.2004 by Adi del Piervez x Fiona del Piervez .. Quarteroni Ferdinando breeding kennels owner Denise Gaioni
Camilla 09.03.2005 by Paci di Valle Scrivia x Birba..Caprioli Gianluca breeding kennels owner Emilia Marchetti
Apo dei Pitoti 12.10.2007 by Audio x Stalyn Piervez  kennels owner Emilia Marchetti
Flick dei Pitoti 19.08.2009 by Paci di Valle Scrivia x Zola owned by Fabrizio Nava
Artù 28.12.2011 by Paci di Valle Scrivia x Tina  kennels of Fabrizio Nava owner Devis Albani
Dolce 20.01.2011 by Flick dei Pitoti x Tina  kennels of Fabrizio Nava owner Rahel Koller. Italian Champion of working with livestock.
In recent years we has been able to appreciate the Bergamasco's accomplishments in ENCI  FCI  tests with a good number of subjects taking part in higher grade classes in the Traditional Style. Initiative remains one of the fundamental qualities in our Bergamasco and he shows it by quickly read the livestock intentions and drives him to intervene whenever he thinks it's necessary, sometimes even anticipating the handler's commands. Always  alert and vigilant, for him control and supervision of the flock come first above all else. When a sheep is left behind or wanders off from the set course, the Bergamasco automatically goes and recovers the animal very quickly.  The capacity to jump to overcome obstacles are other  strong points of the Bergamasco highlighting his outstanding agility. The Bergamasco is fast and doesn't bother about having to pass through brambles or jump fences. Herding dog trials is an activity that brings to light the reason why the Bergamasco was selected  and to help put to good use his potentials.